Its that time of the year again with Thanksgiving right around the corner. Plans for a normal turkey dinner and yearly gatherings with the family. Why not make this Thanksgiving a little more exciting with some scientific and electronic kits from the Reuseum!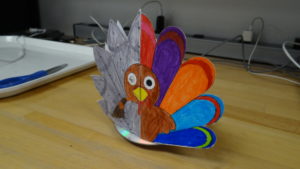 The Turkinator
Using motors, superglue, and a bit of creativity, you too can create a gobbling Turkinator in the flesh, or rather, in the circuit. Put the turkey together; equip its cybernetic eye, its motorized feet, and its metallic body for the ultimate Thanksgiving turkey.
Spectacular Spinning Art!
Spin art is an art form that uses paint, a canvas, and a spinning platform to create art. As the canvas rotates, centrifugal forces draw the wet paint outwards, creating intricate designs. Use fall colors to not only express your creativity, but also celebrate the holiday season.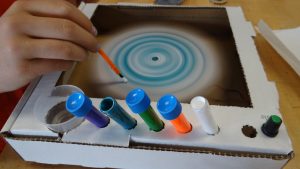 Along with these kits, one could also find parts and pieces to build your very own original projects! Throughout the shelves you could find electronic components to start breadboarding or even Arduino's and sensors for all manner of projects. The possibilities are endless, so come down to the Reuseum to get started.